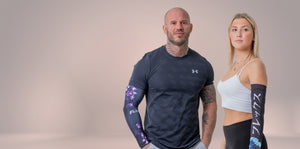 Welcome to FlexoGear, where we believe that high-quality compression arm sleeves can make all the difference in your game. Our mission is to provide athletes with the best possible compression sleeves to help them step up their performance and achieve their goals.
At FlexoGear, we are dedicated to creating top-notch compression arm sleeves that offer the perfect balance of support, comfort, and style. Whether you are a professional athlete or simply looking to improve your game, our sleeves are designed to help you perform your best.
Our team is passionate about fitness, and we understand the importance of having the right gear to support your athletic endeavors. That's why we've made it our mission to provide athletes with the best possible compression arm sleeves on the market.
Our sleeves are made from high-quality materials and are designed with the latest technology to ensure maximum support, comfort, and performance.
We are committed to offering our customers the best possible shopping experience. From our easy-to-use website to our fast shipping and responsive customer service, we are here to make sure you have everything you need to succeed.
We hope you enjoy our products as much as we enjoy offering them to you. If you have any questions or comments, please don't hesitate to contact us.